This couple asked homeless people what they wanted, and gave it to them
|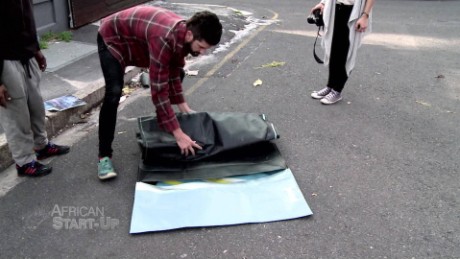 (CNN)There are roughly seven thousand homeless people in Cape Town.
Looking for a way to help them, Oliver Brain, a design engineer and social entrepreneur set up a sustainable sleeping bag business, with help from his photographer girlfriend Sarah Issacs.
Brain started
Street Sleeper
three years ago when the need to help his community was met with a practical solution.
"After speaking to some of the homeless people in my neighborhood, I asked them what would they really want and they said an immediate form of shelter."
We're always astounded by the boundless sense of humour that seems to permeate Cape Town's homeless community. Hard to imagine having the will to smile when you don't have a home to back to, and yet, this smile, big and beautiful. A lesson in the tenacity of the human spirit. Mandela Day dignity portraits, July '16. @sarahmisaacs #thisissouthafrica #mandeladay #socialchange #portraiture #capetown #homelessness #homelessnessawareness
"I didn't have a material but I knew I had to find it somewhere in the city," he told CNN.
Brain calls Street Sleeper an 'urban survival sleeping bag,' and it doesn't just help the homeless, but the environment too by recycling plastic billboards.
"I can't wait for tonight, I can't wait for it to come! I'm just so excited to try out my new bag. Yes man!!" Cecil Mafeking – Refrigeration Technician & Street Sleeper User. You can #giftabag to a #homeless person this #MandelaDay here: www.streetsleeper.org/product/giftbags/
Upcycling for a good cause
Street Sleeper gets donations of advertising billboards that would otherwise be discarded. "It's (billboards) made from a PVC. It's extremely strong, it's waterproof, it's weatherproof, it just so happened to be a really good fit."
Brain works with a small team to manufacture, market and distribute the sleeping bags, and the company employs homeless people to work on the business. The company relies on donations of $10.55 for each bag,
via their website
, and they are given out to those who need them for free.
Weighing just over four pounds, the bags are designed with a pillow slip to put clothes in and a hood to shield the head in bad weather. They also fold up to make a carrier bag which can easily transport one's belongings.
The bags are distributed through feeding centers and volunteers who are encouraged to connect and speak to the people they give the sleeping bags to, and find out more about them.
Last winter alone, Brain said Street Sleeper distributed 3,000 bags and the company says it hopes to supply another 3,000 in the next year.
Read more: http://www.cnn.com/2016/09/16/africa/street-sleeper-cape-town/index.html